Irvine Taekwondo Students Kick it up, Breaking Boards for
Radiology Room at Orange County Children's Hospital – CHOC
Master Lee's Talium Taekwondo plans their annual Healthkick board break-a-thon, to raise money for local Children's Hospital for Saturday September 24th, 2011. The goal is $50,000 to fund a radiology consultation room in the Hospital's new building.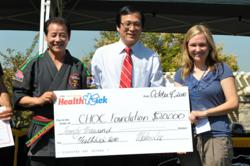 Irvine taekwondo students break boards for CHOC children's hospital. Little kids doing BIG things!
Irvine CA (PRWEB) September 12, 2011
Students of Master Lee's Talium Taekwondo school in Irvine continue their annual tradition of raising money for Children less fortunate. Practicing their taekwondo kicks and board breaking skills to benefit the Children's Hospital of Orange County – CHOC – the students have been working hard towards gaining donations from local businesses, hoping to meet their goal of $50,000 which will fund the hospital's Radiology Consultation room on the first floor of the new building.
The event, Healthkick, is in its fifth year and has now become a global initiative adopted by the governing bodies of olympic taekwondo, the Korean based Kukkiwon organization and The World Taekwondo Federation, thanks to Talium's owner and American Taekwondo United's (ATU) President, Seung Hyung Lee.
Lee, an 8th dan black belt with over forty years of taekwondo experience, began the cause to help his students learn the value of community service. "It is an event that promotes one of our core values here at Talium," says Lee, "that finding compassion, and acting with kindness, brings harmony to my taekwondo students. I want my students to know the benefit of sharing their skills in a positive way with the community they live in. Take nothing for granted."
With local Orange County businesses behind them, such as Broadcom Inc, CapFin Partners, Chocolates a la Carte, Artistique Whisper, Crayne Scientific Inc, Children's Hope International Literacy Development (C.H.I.L.D.) , and generous donations from local family, the Bridenbeckers, Talium Taekwondo is well on the way to achieving their fundraising goal.
On September 24th, 2011 at Colonel Bill Barber Park in Irvine you can find President Lee along with Irvine's Mayor Sukhee Kang supporting the students in their board breaking tournament and presenting the CHOC Foundationwith a fundraising check.
###